Fast-track your degree in business
Start studying university courses in Year 12 and guarantee your place into one of our many business degrees with study credit through UniSA ACCELERATE.
What's UniSA ACCELERATE?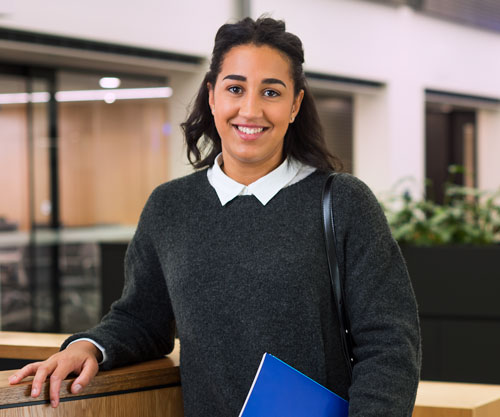 Are you currently in Year 11 and interested in studying a business degree at UniSA?
Well, UniSA ACCELERATE is a program open to all Year 12s commencing in 2023, living in South Australia, giving you the chance to start studying university subjects in your final year of school and guaranteeing you an early place into your business degree at UniSA. You'll get study credit towards your UniSA business degree for successfully completed courses and you can also apply for study to be counted towards your SACE Stage 2.
Through UniSA ACCELERATE, you can study up to two subjects* through UniSA Online in a wide variety of areas like accounting, business law, marketing, management, finance, retailing and psychology. You'll study 100% online, giving you the ultimate flexibility to balance your other school studies and commitments. All learning, assessments and exams will be delivered online with dedicated academic and support staff, so you don't need to come on campus. You'll get a student ID card though, so if you want to explore your local campus and get the university experience you can!
*If you are wanting to study two courses we recommend you undertake them in different study periods.
What subjects can I study?
Your pathway to UniSA business
Through UniSA ACCELERATE, you'll guarantee your place into a UniSA business degree and join one of the best business schools – in fact, we're ranked in the top 1% worldwide.*
Careers in business are dynamic. On the backdrop of an ever-changing global landscape and changes in workplace practices and the way we do business, you'll always be in demand. Whether you're interested in breaking into the property sector, positioning brands, creating financial products or being the next big startup – a business degree is the right choice for you.
Through a business degree at UniSA, you'll learn the fundamentals and specialise in an area that interests you most.
*UniSA Business is one of just 12 institutions in Australia and approximately 200 globally (from over 25,000 universities) to be EQUIS accredited. EFMD, March 2022.
Register your interest for 2024
Applications to study through UniSA Accelerate in 2023 have now closed. If you have submitted an application, our team will be in contact by the end of January to notify you of the outcome.
If you are currently in year 11 and considering undertaking a UniSA Accelerate subject in 2024, please register your interest below so we can keep you updated on the application timelines.
By submitting the form below, you agree to UniSA storing your contact details and sending you future student communications with information regarding UniSA programs, services and events. You can unsubscribe at any time via UniSA's email communications. See our privacy policy for more information.
Key Application Dates

01 SEPT
1 September 2022 - Applications open

23 DEC
23 December 2022 – Applications close

23 DEC
23 December 2022 - Results submission deadline

9 JAN
9 January 2023 - Offers issued

MAR
March 2023 – Orientation

APR
April 2023 – Start Study

JUN
June 2023 – Start Study